After we got our bedroom in order, I turned my attention to our living room.
Last I showed you, I had gone against my husband's wishes and painted it white
. It was pretty stark, so naturally it drove me crazy and I had to fill in the Great Blank. Problem is I had pretty much blown my budget with paint supplies, so I had to get creative, as I had recently done
in our bedroom
. Little by little the white got filled in, and I gave a sigh of relief and thanked Past Christine for having the foresight to embrace the neutrality of white.
Behold, the neutrality of white:
I, of course, didn't have the foresight to take a "before" picture (I just started moving furniture and splashing paint around, it was PRETTY INTENSE), but our previous paint color basically matched the furniture. And the wood flooring. Which meant everything was the same color, and it was making me a raving lunatic. White seemed like the neutral with the most longevity, and Pegasus (an Olympic paint--I used satin) is proving to be a paint kindred. It's clean and bright and on the cool side of things without being stark, and it makes our space feel HUGE. We used it in our upstairs bathroom last summer, and I'm still happy with it, even on this much wall space.
Here's a testament to the power of white paint: Before using it on the walls, I was starting to hate my beautiful, expensive, wonderfully-made couch, loveseat, and armchair simply because they were brown. I secretly wished for them to die in a fiery crash. (?? I don't know, I was irrational.) Who wishes such a fate on Bassett furniture? People surrounded by brown, that's whom. Then I painted the walls, and the brown furniture became beautiful and practical and timeless again. I once again thank Past Christine for her risky first-year-of-marriage purchase, because let's face it, Present Christine could
never
blow that much money on furniture. It's all due to the power of white paint, people.
As you might be able to see from the above picture, I like busyness. I like patterns (and lots of 'em!) all mixed together in what I hope are complementary ways. I got the biggest, baddest area rug I could find (
this one
from Rugs USA) in the boldest, most eyeball-watering pattern available. (Note: I don't have any other rugs on my wood floors, since we deal with allergies, but this is our only living space, so it needs a rug. This one is nearly 8' X 11' and it is PERFECT.) I decided to welcome every color but pink, although maybe pink will sneak in there without me noticing. I started throwing lots and lots of things on the walls, and my happy factor rose by about six thousand points, which is just shy of Total Bliss on the Happy Scale. Finally! My living room was eclectic, crazy, and print-happy, and I was truly enjoying it for the first time in years.
Now shut up, Christine. You talk too much.
In this corner I both maintained some established elements and changed some stuff up.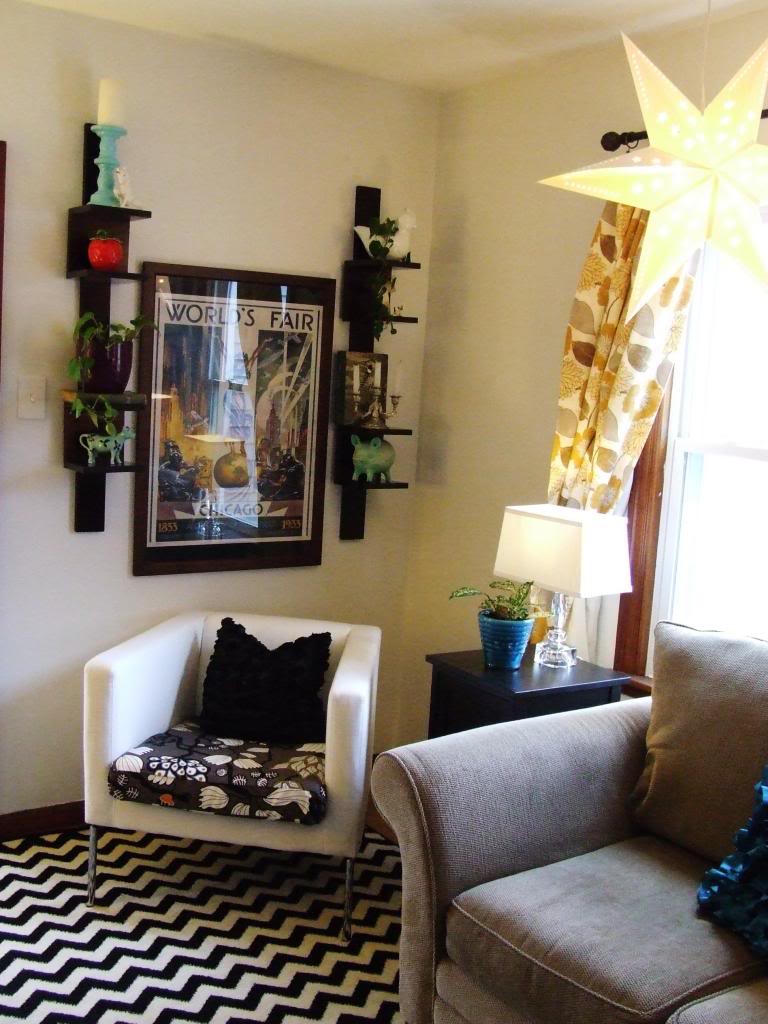 I spy three separate plants in this photo.
I have a lot of plants, y'all.
What we left the same was the grouping on the wall of the World's Fair poster and father-in-law-made shelving. (Those were the shelves borne of me handing him the Pottery Barn catalog, saying "I like these, please make them," and him performing miraculous miracles of carpentry.) It just worked for this space; the only change I made was to the stuff on the shelves.

I should note that we tried a few different furniture configurations in this room, but ultimately landed right back where we started. We have a long, narrow living room that doesn't allow for much versatility or for a coffee table. The lack of a coffee table might be my one great regret.
I've had this end table in the next shot for a couple years now, originally bought from another local consignment store. I bought it painted dark brown, but the paint/sealant job wasn't well done and it started scuffing and peeling in no time. I looked around downstairs for some paint that was a) punchy and b) enough to cover a small table, so yellow it was. Sorry the lamp is so bright. I never claimed to be a photographer. Oh, and the owl canvas was a present from my parents. It's from Pier 1. OH YEAH, and the lamp is from a consignment store. I think it looks like an aquamarine brain.




Here's a closer look at one side of that wall: