So. Are you ready to see my bedroom?
Wait, wait, that sounded wrong, I'M SO SORRY. Let me back up. If you hang out here with any regularity (and let's be honest--not much happens here, so I'm pretty impressed by your loyalty), then you know that our master bedroom transformation has been a long time coming. Back in August I entered my bedroom in
a makeover contest
(which I didn't win) that ended up being the catalyst for change. Soon after NOT winning, we were able to get
a ton of siding and window work done
, which included
new windows in the bedroom
. Right before getting the new windows in I took the plunge and bought some really nice bedding, thus banishing the dragons that had previously adorned our bed. Then around Thanksgiving my dad
took out and started to fill in
the funky look-into-the-sunroom window in our bedroom. When THAT was finally done, my mom moved in and got it
painted and stencilled
.
Gracious! This bedroom really has been in the works for some time. Let's move to some pictures.
First, a reminder of what it looked like before, in case you didn't feel like traipsing through all those links.
After new bedding, but before new windows: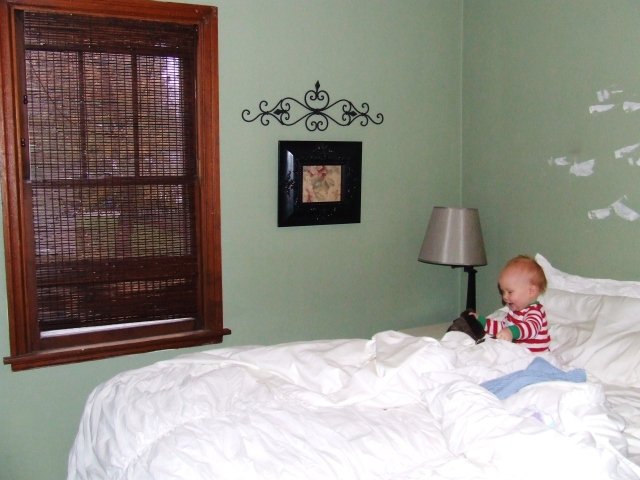 Except for the ginger baby, it was pretty awful, right? I painted it green as soon as we moved in, did nothing with the room itself (aren't master bedrooms so often neglected?), and then slowly grew to hate not just the color or my accessories, but the room itself. Uh-oh. One should not hate one's master bedroom. You spend too much time and do too many important things (like crossword puzzles!) in there to spare any hatred for it. If possible, it must be sanctuary.
We moved closer to sanctuary with some paint and a finicky stencil, which is as much as I've shown you.
Please walk into our bedroom...
now
.
AAAARRRGGHHHH I LOVE IT I LOVE IT I CAN'T STOP SCREAMING.
Okayokayokay I think I have a grip. Pheeeww.
Let's first discuss something really quickly, because it was crucial to the finishing of this room. My goal was to spend nothing. Nothing. Now, that doesn't include the bedding--I'm talking about the final, pull-it-together stages I enacted just a couple weeks ago. Nor does it include the drywall work or paint or stencil, all of which were part of our Christmas present from our folks. I wanted to get the whole thing done and colorful and pretty without spending a dime.
I succeeded by using stuff I already had.
Wait, I think I bought light bulbs. I did not have those. I also paid for new outlets, a new light switch, and a new light switch cover, but I'm not counting those. I
had
to buy those things new, and we kind of needed them to, you know, turn on the lights and update the electrical work in the room. I'm talking about the pretties. The stuff that no one was excited about except my mom and me.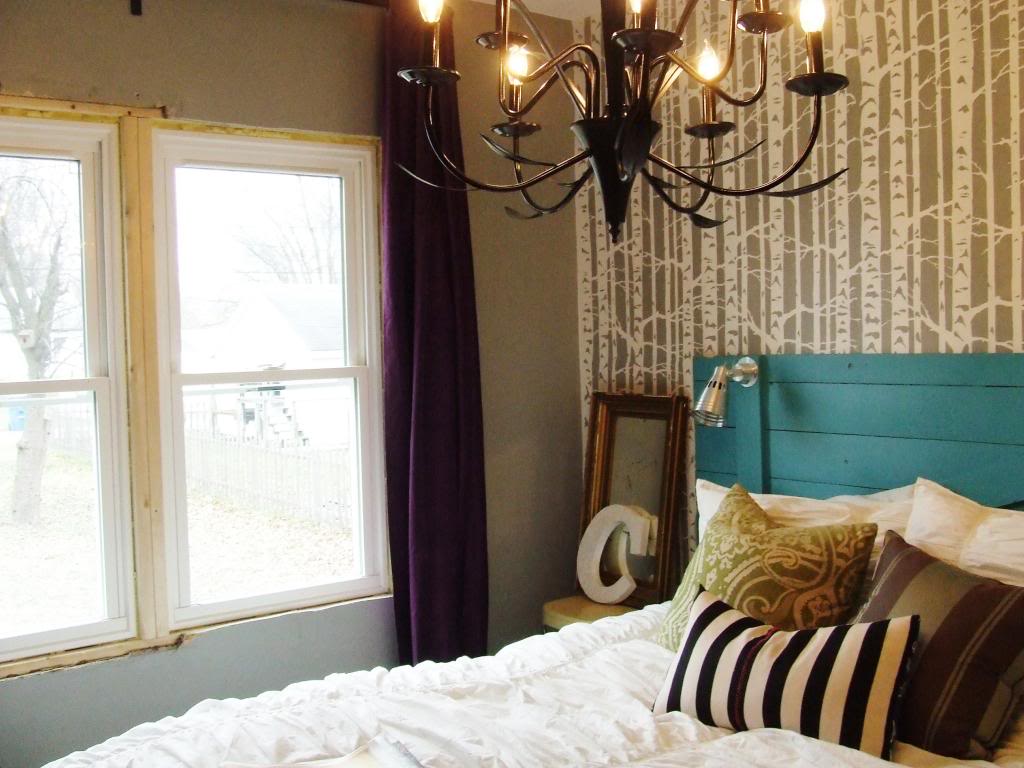 Please ignore the still-raw windows.
Trim will happen. Eventually.
Here, have a list:
Headboard:
old pantry door from our basement, painted
the same blue as our upstairs bathroom
. It weighs a million pounds and will
probably
never crush us in our sleep. We think the screws are long enough.
My "nightstand":
an antique yellow stool, also previously seen in our upstairs bathroom
The Professor's "nightstand":
an old wire milk bottle basket I had sitting around
Bedside light:
an Ikea find I had bought for another project but didn't end up using (I will need to buy another one of these next time we're up there.)
Chandelier:
free from my mother-in-law! I painted it glossy black with spray paint I found in my basement.
Throw pillows:
pilfered from around the house and/or recovered by me using scrap material
Curtains:
purchased from Ikea this fall after window renovation
Antique mirror precariously leaning on stool:
in my basement (garage sale find from years ago)
Letter C, also leaning precariously:
in my closet (from
old alphabet wall
) Does it stand for "Christine" or "Case"? NOBODY KNOWS.
Crossword puzzle book:
all mine, suckers
Hidden baskets overflowing with cloth diapers:
courtesy of Raisin Baby Extraordinaire
Artwork on wall across from bed:
All from around the house. The Eiffel Tower print was a gift from my parents last Christmas (I hung it exactly 364 days after getting it), the tryptic of F. Scott Fitzgerald, Audrey Hepburn, and Claude Monet was made by yours truly in high school, the frame was in our basement and received a fresh coat of glossy white, also found in our basement, and the record frame, a gift from Janie, holds artwork from an old Mary Poppins album we had on hand.
(Eventually, I'd love to fill every inch of these walls with pictures in all shapes and sizes.)
Dresser and mirror:
Our old ones, painted afresh. The mirror is done in the same blue as the headboard, and the dresser is painted a semi-gloss white that I found in my basement. (Our basement is not nearly as interesting as I'm making it sound.) The dresser is devoid of twee decor because I am being SO VERY GOOD about letting it cure for a looong time, waxing it, and then letting THAT cure for a looong time. I chose not to paint the drawers after being inspired
by this post
, and I'm very happy with the results. The unpainted drawers remain cohesive with the flooring and dark woodwork and doors.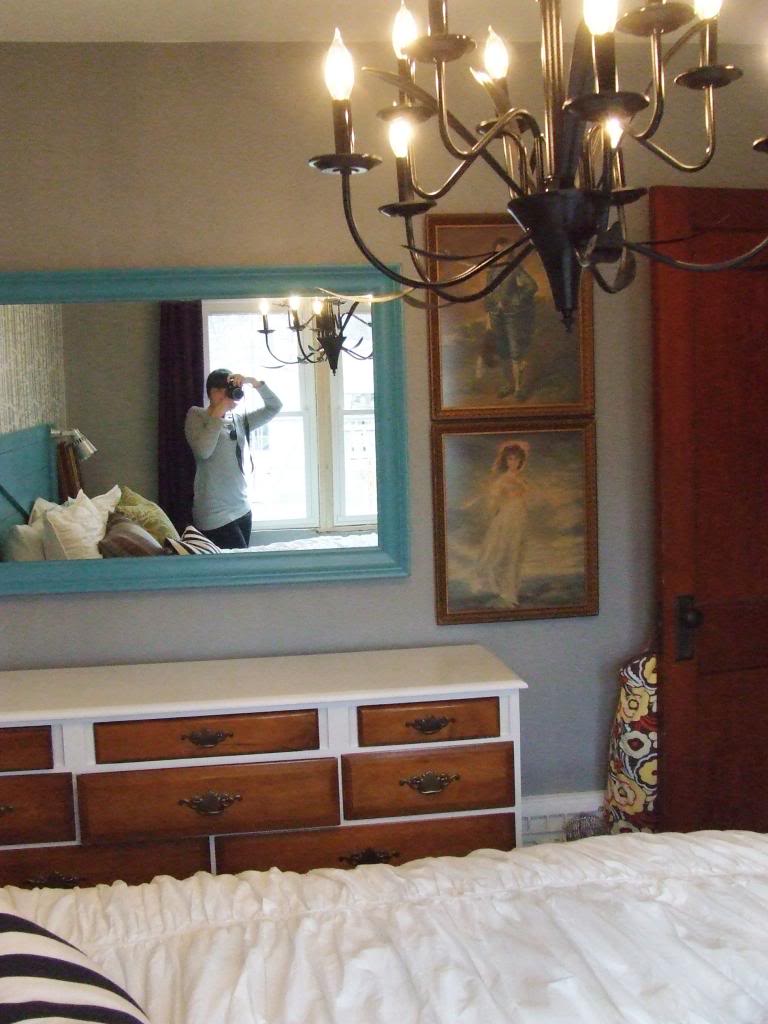 Cameo! I'm sucking in my tummy here.
Pinkie and Blue Boy:
Mine for several years now. I have sentimental reasons for owning these pictures and hanging them proudly, even though they are slightly kitschy (thus their appeal!) and really creep my husband out.
Diaper wet bag:
Also courtesy of Raisin Baby.
Aaannnd...that's it! That is my room, which is now a sanctuary, honestly and truly. I love every inch of it, even the wobbly plaster underneath the windows. I feel a real sense of pride in this room. Not only does it look exactly like I want it to look, but I did it myself (with some significant help from my spouse and parents), without the aid of a makeover contest, without needing to spend thousands of dollars in new decor. I spent a
little
money, then wandered around my house and shopped for the extras. Reopening forgotten cans of paint gave me a genuine thrill. I am weird that way.
I hope you enjoyed the tour and can come over in person someday to sink into our bedspread and fill in some crossword clues for me. If you do, it will get crowded quickly as it's not a very large room, but it is every bit
ours.
(P.S.: I bought the duvet from The Company Store. I know, I know. I splurged. The duvet cover and shams
are here
. They are pretty basic--the throw pillow is ridiculously awful, and there is already a tear in the lining of our cover. I don't know what in the world would cause that. It just, you know,
lays
on top of us as we sleep. I promise, I'm not sticking knives in it. I really like the puffy, ruched look of the cover, but I don't know if I'd tell you to buy it, too. Maybe find a similar one that's a bit pricier.)