I'm so sorry, but this isn't a full-blown
half bathroom reveal post
, as I know all three of you have been wanting. Believe me, I'm itching to post about it, because it looks FANTASTIC. However, there are a few little niggling details I'd like to finish up before showing you the marvelous job my husband and father-in-law did while the kids and I played our hearts out last week.
But! I am nothing if not a tease, and I'd like to show you just one teensy element of this room, plus an exciting discovery relating to said teensy element. That was all kinds of cryptic, so let me get specific.
I needed an overhead light, and I wanted to make it a custom creation. (Read: I'm on a budget. Also, I wanted to buy all the disparate elements, shove them in my husband's hands, and say, "Please make these a light.") This overhead light didn't need to be super bright, since we have a light over the sink, so I figured this is where I could be on-trend and cute without addressing lots of functional task lighting. I love the look of a pendant light whose main feature is an Edison bulb, but the problem with pendant lighting here was the very low clearance of the sloping ceiling. So I needed to create a see-through pendant (to better display the bulb) that was small, yet still awesome enough to pack a punch. I went to Hobby Lobby thinking "Wire basket? Bird cage?" for the shade/cover and ended up finding something unexpected and yet just perfect.
Here is what I came up with: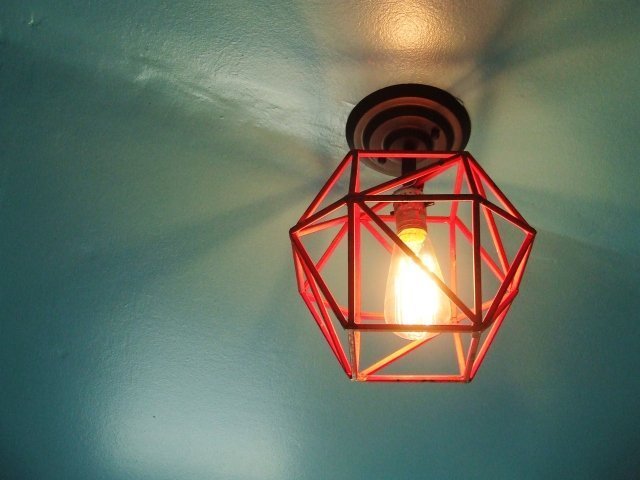 Honestly, this photo isn't doing it justice. It looks GREAT in this space (which I'm not showing you fully, which is probably why the photo seems kind of 'meh'), and the Edison bulb maintains a quirky feeling while the red adds a splash of bold color to our aqua (ANOTHER CLUE) walls and ceiling. The height is perfect, by the way. So I got an awesome, custom light fixture without having to give up and resort to a boob light. (You know what I'm talking about.)
The elements to put this together are as follows:
weird cast iron geometric shape tabletop thing from Hobby Lobby ($12)
Edison bulb, found at Lowe's ($8)
clearance pendant light, taken from Lowe's display ($4)
My husband and father-in-law also gutted part of a table lamp I already had on hand for the socket, which was free, obviously, bringing the grand total of my custom light to $24.
Behold, something I discovered just days later in a magazine: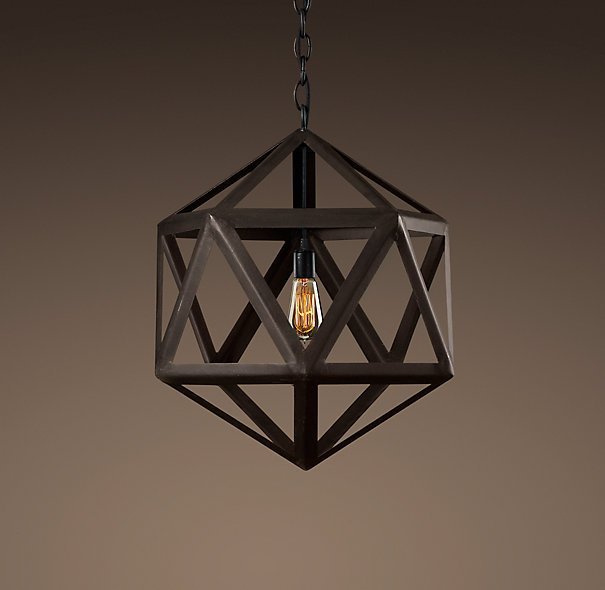 This is a pendant from
Restoration Hardware
. It is, admittedly, larger than mine, but here's where I'd like you recoil in shock and disbelief:
They are asking $350 for it.
I have long thought Restoration Hardware was a tremendous rip-off, and now I have proof.
So that's my first tease. Be assured that I find an excuse to run upstairs and turn that light off and on about every 20 minutes throughout the day.
And just because you asked sweetly, here is one final image: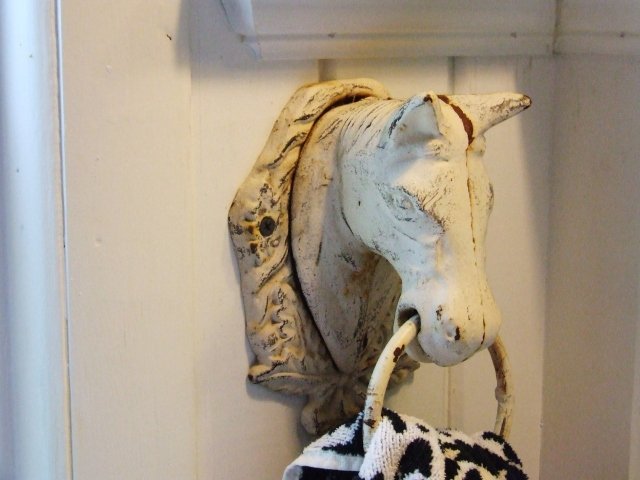 Squee!