I am ready to reveal the results of our whirlwind
sunroom renovation
! Last post I gave you a couple of pathetic pictures and
called them clues
, but now I am ready to show you the room in its almost-finished state.
First off, remember what it looked like at first? Covered in knotty pine paneling, topped by a dusty drop ceiling, and making me crazy with its general lackluster appearance?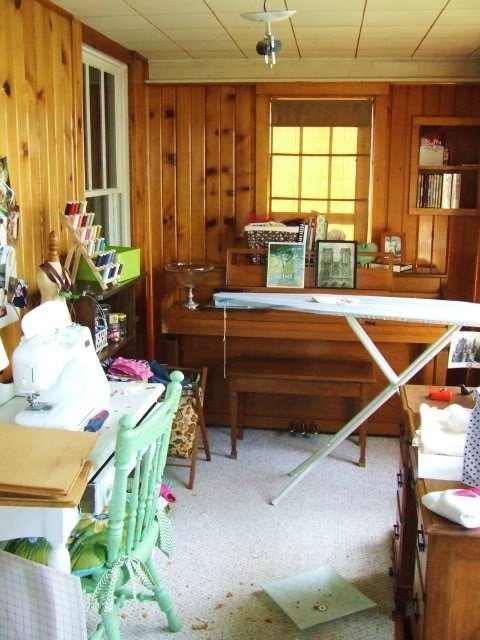 Well. In my opinion, no one could call this room "lackluster" now, after my husband's hard painting work and my very determined attempts to infuse more color and vitality into the space, I think we have a keeper. Here is the sunroom now, as viewed from the living room: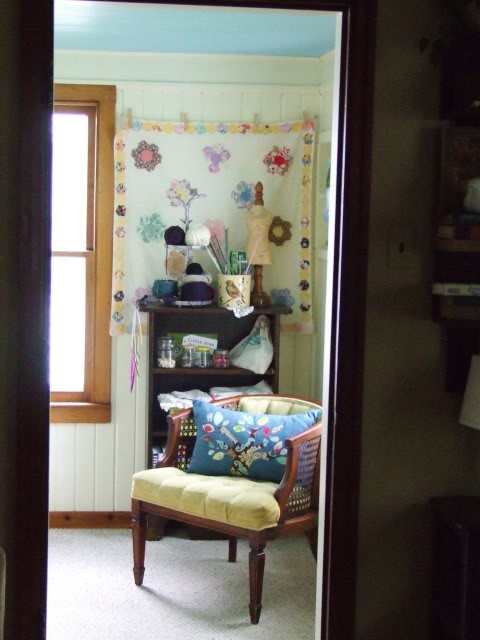 A few things about this picture:
The walls were first primed with Olympic's low-odor/zero VOC primer, then painted Olympic's Lotus Flower in low-odor/zero VOC satin. The ceiling is the same paint in South Pacific. I cannot imagine not painting in low odor, since I nearly fainted from the vapors. This may just be pregnancy drama.
I found that "quilt" at a garage sale last week and fell in love with it. I say "quilt" because it's like someone put in all the work but then never finished it, backed it, etc. But hey! They did the piecing and that's all that matters to me. This scrappy piece of fabric has been a great inspiration for color for this room.
I've had that chair for about a year now. I picked it up at a garage sale for $3, thinking it would be a great way to try reupholstering, and it's been languishing in the basement until now. By removing the kids' toys we had space for seating (which is glorious), and this chair ended up being the perfect addition. It does still need to be reupholstered, as the fabric isn't in the greatest shape, but the chair itself is solid and happy. And it makes us think of The Professor's grandparents' old chairs, which Janie now has in her house.
Oh, that pillow:
You guys were right, it was a tree! I loosely followed
this tutorial
, and it ended up being a great way to use up fun fabric scraps and add some punchy color to my home. I am still learning that green and blue can be friends. Yes, you are allowed to marvel at my stupidity. That's fine.
Anyway! More room. Here is where I have my sewing table and dresser-o-fabric-and-notions against the windows on the north side of the house: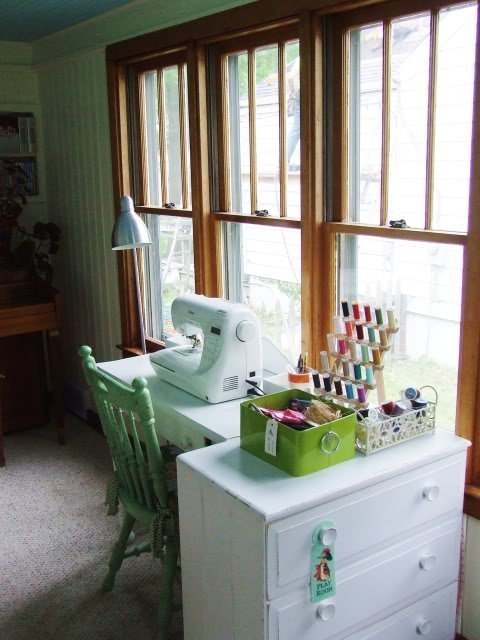 Now I get TONS of natural light, and that coupled with the new paint scheme might just help me from getting so severely depressed in the long winter months, as I usually do. (I mean, really, winter is so long.) I found that lamp for $3 at another sale last week. It is wonky and the switch might be going out, but that is okay, as it works well for good light for now.
Behind the sewing table is my childhood desk, now housing The Professor's large childhood shelf: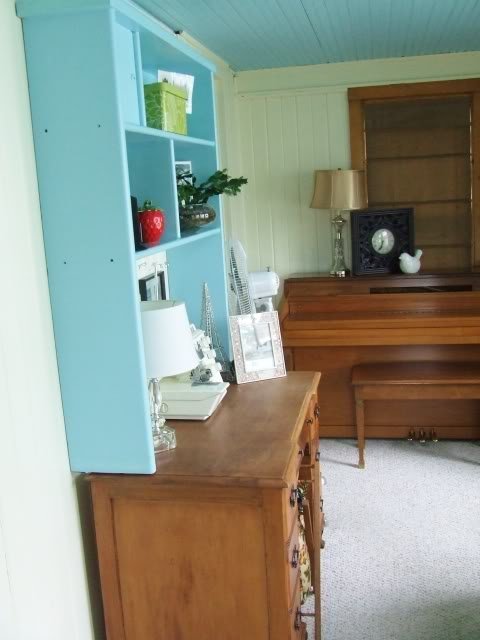 (A note: A couple of people have asked about the shade in the window behind the piano (which weighs a million pounds and will never move from this spot. Ever.) I keep that window shaded at all times because that is a west-facing wall; thus, if left open, the window would let in tons and tons of bright, hot afternoon sunlight, making the room approximately ninety-zillion degrees in the summer and also fading the piano and carpet and everything. The end.)
I wish the desk and shelf didn't have to be right behind the sewing table, but this is a small room, and this wall is the only one without a window, thus forcing the bookshelf here. We're at peace with this. My father-in-law built this shelf years ago, and it has always been black. I fell in love with this shelf before I ever fell in love with my future husband, and I coveted it when I first saw it in his college dorm room. I was thrilled to inherit it in our senior (or was it junior?) year, when he realized that my love for this shelf was greater than his love for this shelf, and I happily integrated it into my apartment decor. We used it faithfully until we moved into this home, when there didn't seem to be any need for it, and it (along with the yellow chair) sat sadly in the basement, waiting for the day last week when I would wander down, see it, and say, "Oh my heck, how did I forget about this, it will be perfect!"
So The Professor slapped some blue paint and some varnish on it (varnish since there will be so much moving-about on it, thus creating scuffs on a non-varnished shelf), attached some felt to the bottom, positioned it on the desk, and anchored it to the wall. Hurrah! More fabulous storage!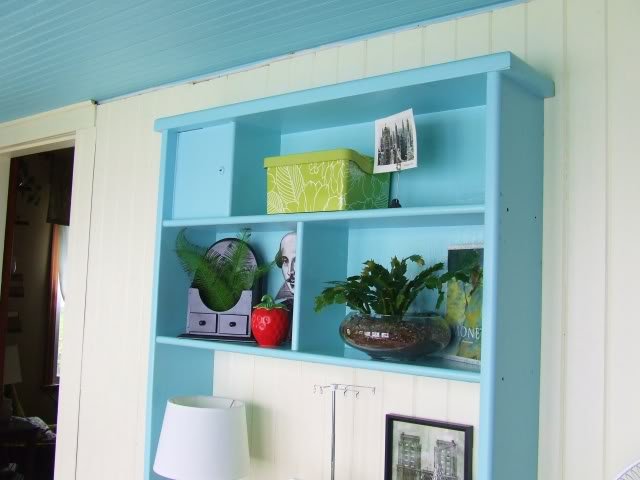 Don't worry, I'll fill that sucker up. Hopefully with more Shakespeare/Paris paraphernalia, because that makes sense.
Here's a closer shot of the ceiling, since maybe you didn't get that it's now BLUE: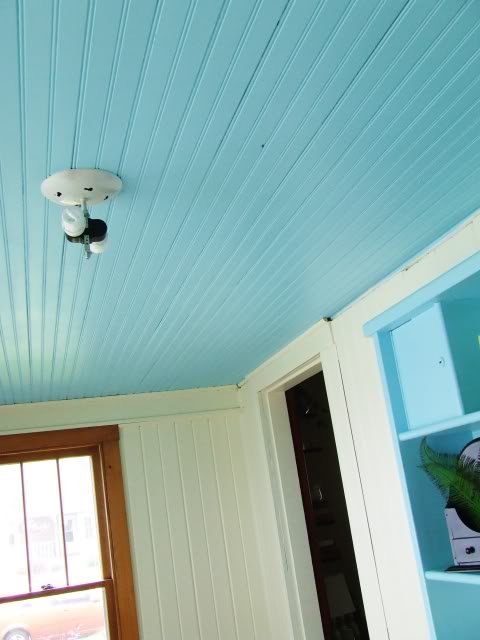 The blue was my mom's idea, and I will forever be in her debt for such a fabulous suggestion. We are searching high and low for a new light fixture but having little luck in our town. Ideally I want to find a low-profile, teeny-bladed ceiling fan in a dark wood tone to complete the bungalow-ish look, but no luck so far.
We also need to find a few more wall hangings, and I'd like to whip up some feminine valances out of the many different types of vintage linens I like to find and hoard. For now, we are enjoying our room, reveling in its beauty, and marveling at how a few coats of paint can completely transform a space.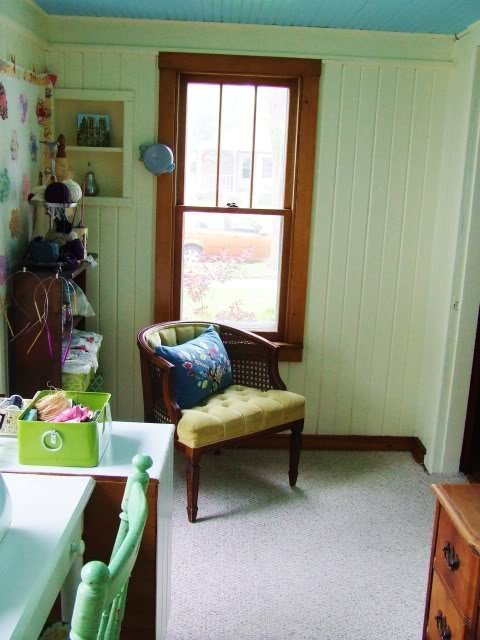 (That weird circular thing next to the window an interior clothesline pull.
Ugly, but very necessary.)
Thanks for embarking on this tour of our room with me! If you have any suggestions/ideas, please feel free to leave them in the comments. I will feel free to ignore/make fun of you as I choose. This is what the blogger/reader relationship is all about, right?
And here's to more room renovations! Here's to more punches of color! Here's to finding beautiful wooden beadboard hidden behind ridiculously ugly drop ceiling tiles!