That's right, folks--we have progress! I am so excited to be able to share some significant changes in our bathroom. We didn't dream we'd be at the point we are tonight when, last week, we were hashing out just when The Professor was going to be able to dedicate time to this bathroom. At just about the time we were realizing how long this was going to take, his dad called and offered to come down for the weekend to help out.
Maybe you don't understand the magnitude of that statement, so let me clear it up for you: his dad is a professional carpenter.
Meet Dad Case, Home Project Doer Extraordinaire: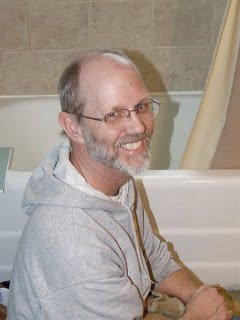 When we learned that S's dad was willing to give up major time on
his
latest home remodeling project (he and Mom Case are doing major updating to their master bedroom and bathroom--thanks, Mom Case, for giving him up!), we hopped to it, scrambling to buy what supplies we needed before he arrived. We needed drywall, floor tile, a medicine cabinet, light fixtures, paint, and sundry supplies. I had already cleaned our local Lowe's out of its supply of the floor tile we are using, but the employee who helped me informed me that another Lowe's in a town an hour north of us (closer to Chicago) had over 50 feet of the same tile. Wednesday late afternoon we piled everyone in the van and drove the hour to clean
that
Lowe's out of their black and white pinwheel ceramic tile. (Pictures will be forthcoming, as in when it's actually on the floor.) We found everything else we needed, paid a sobering amount of money for it all, ate at a
Five Guys Burgers and Fries
, bought lots of coffee at
Trader Joe's
, and then headed home, tired and slightly poorer than before but happy in our purchases.
Dad Case came in early afternoon on Friday, and he and The Professor wasted no time getting right down to business. Well, first my husband did the most important thing and wrote a message on the plaster so that anyone tearing into our drywall in the future will know who put up said drywall in the first place: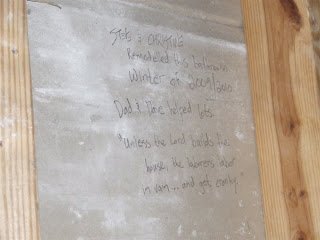 It reads Steve and Christine remodeled this bathroom
winter of 2009/2010. Dad and Dave helped lots.
"Unless the Lord builds the house, the laborers
labor in vain...and get cranky."
He and his dad then finished up the plywood flooring (Remember
how it had looked
last weekend?) so that their floor would be level and ready for Hardiebacker. (That's what you then put the tile onto.)
Next they put up drywall on the left side of the room and above the door frame, which you can kind of see in the left side of the previous picture. They finished that up just around dinnertime Friday evening and had to stop for the day because I was so-so about the light fixtures I had bought when we had been out Wednesday evening. I had bought some modern, pillar candle-looking sconces that just weren't speaking to me, and we finally determined that they wouldn't even fit on either side of the mirror. So after dinner I got back out, visited yet another home improvement store (in town), found the light fixture that was calling my name, did the necessary returns, and brought home my prize. Then we all slept.
Saturday morning the men started bright and early, not wanting to waste a minute of their weekend. At this point I'm not listing their accomplishments in any particular order, since I'm not really sure what happened first or last and I'm too lazy to ask and then listen. I do know that they had to reconfigure some of the wood in between the studs, since our new medicine cabinet is larger than the previous space available in the wall. I didn't take a before shot (shoot), but here's the after, once they'd measured carefully and done the necessary fitting:
They also worked on the electrical stuff today. We needed to convert our old switch box (one light switch, two electrical plugs) into something slightly different (two switches, one for the light above the medicine cabinet, one for the exhaust fan/light combo, with two electrical plugs next to the cabinet), so they worked on that and got everything wired. I think. To tell you the truth, I have no understanding of electrical things, so I just hope they do. I do know that Dad Case measured all of the switches in our home, and they are all surprisingly high, so he lowered the switch box with the new switches.
And once he mentioned thinking that our switches were sort of high, it did hit me that you have to raise your hand to turn on the lights in our home, instead of just reaching out at a normal level and finding the switch. If I think back to when we first moved here, I had to train myself to aim higher. Old homes are funny.
Another "old homes are funny" moment: they turned off the breaker to the bathroom for the majority of the day, and we discovered that that particular breaker controls the bathroom, our bedroom, the hallway in between those rooms, most of the plugs in the living room, the switches for the front porch and entryway, and all of the plugs/switches in the sunroom. Whoa. We may need to think about changing that someday.
Truly exciting things!
Moving on to more exciting things...
Once all the electrical was finished and they were happy with everything going on in between the walls, the rest of the drywall went up. We used greenboard, which is a moisture and steam resistant material that is good for bathrooms. (It is not waterproof, mind, which does not make it good for shower stalls and the like.) Here is a shot of the drywall up on the right hand wall, above where the sink will go. The rectangular cutout is for the medicine cabinet, and the blue circular one is for the light fixture: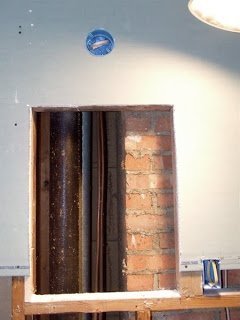 Once all the drywall was up, they taped and mudded the seams so that the mud could dry overnight:
After about 10 hours of work, they called it a day. They plan on working all day tomorrow and tackling all the rest of the plastering, putting down hardieboard on the floor, and hooking up more electrical (we will learn if the exhaust fan truly works!)
I am very proud of their work and their good attitudes. Maybe it doesn't look like they did much to you, but I assure you, they did. We have been staring at bare studs for a long time, so seeing walls--actual walls!--is kind of a beautiful thing for us.
After all their hard work, we can actually plan out things like priming and painting the walls, tiling the floor, and then installing the sink, toilet, lighting, and mirror. OHMYWORD. I cannot even express how exciting the prospect of a second toilet is.
Seriously? So exciting.