Hi, all! We're still here, living la vida loca. (And now I will officially have Ricky Martin in my head for the rest of the day.) I realized that my last bathroom update was from LAST YEAR. Granted, the last day of the year 2009, but still. When I say it was from LAST YEAR, I feel really behind.
It won't look like much has happened since now and then (11 days, by my calculation), which is the truth. The Professor and my dad took a good break over New Year's, as we had my in-laws in town and, understandably, S didn't feel like working on the bathroom when his folks were with us. His sister and her husband came all the way from Virginia, too, and an all-that-side-of-the-family reunion is rare, so we wanted to savor it. Savor it we did, and we all grew a little closer by sharing the sink and toilet in the half bathroom upstairs, as the toilet to the downstairs bathroom is still sitting, nonfunctioning, in our basement.
(Quick calculation: That means six adults, two recently potty-trained toddlers, and the occasional curious baby all used one half bath.)
(Hurrah for togetherness!)
After the guests left, S took two days ripping up the rest of the walls to the studs and cleaning out all the old insulation and crud and tile and nails and whatever he found in there.
It's kind of fun to see our house's chimney: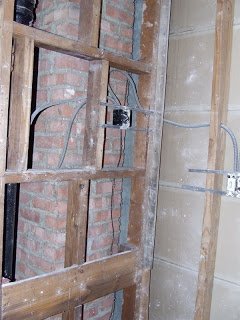 We don't have a fireplace; this is the chimney for the furnace and hot water heater. Also, there is now no electricity in the bathroom, as he disconnected it when the wall lights came out. Hurrah for showering in near darkness!
Okay, so remember
last post
when I first showed you the hole in our sub-floor we had discovered underneath the toilet? Here's another shot of it, this time with all of the plywood flooring pulled off of it, with all of the sub-floor laid bare.
(We still have to shower in here, which is why towels are laid out on the floor.)
Yesterday my dad came and put in a few hours not only repairing that hole in the sub-floor (which I forgot to get a picture of), but also fitting a large piece of plywood for the flooring above that:
We still need to fashion a smaller, more intricate piece of plywood in the front of the room (see the sub-floor peeking out from underneath the fan?), but he ran out of time yesterday.
And that's where we stand. Progress is slower now that The Professor and my dad are off of Christmas break. Classes start at
Olivet
on Tuesday, so S has been going in for the last few days to prepare lectures, write syllabi, and try to look like he's really an adult and not some teenager playing a fun game. We talked about it today, and he's resigned himself to working on the bathroom not only on the weekends, but also in the evenings, as we're at the point where we desperately need this bathroom working again.
So next up: finishing the flooring and hanging drywall. Then we can put in the toilet and sink, paint the walls, tile the floor, and actually make this place look like something I can get excited about. What can I say? I'm a girl, itching to decorate, and so far it looks like some rough tent structure on
M*A*S*H
.
I'm surprised S hasn't set up a homemade distillery in the corner.
(I kid!)
Actually, I'm surprised I haven't set up a homemade distillery in the corner. It sounds like a reasonable course of action, with the state my house is in.