I'm doing this post in a hurry because Charlotte is waking up (and subsequently squawking VERY LOUDLY), so this may be disjointed. But it's Way Back Whensday again, and 
Raechel
 has suggested we post about our weddings. My 
second WBW post
 showcased some snapshots from my wedding taken by guests, so this time around I'll share some of the professional photographs.
You'll notice the large PROOF - 2005 ZUMARE IMAGES, INC. written across each picture. This is because I paid a lot of money for very good pictures, and our photographer wanted to make sure I wasn't, you know, stealing his proofs. I understand this. The upside of this is that I got fantastic pictures. The downside is that I got proofs with his name SPLASHED ACROSS THEM, and to order any more actual copies of the photos would cost so much I may have to sell one of my children.
With the way he is behaving today, I would choose Baylor. But if you ask me again tomorrow, that may have changed.
Anyway, do your best to ignore the copyright mumbo-jumbo. I can ignore it because my mother, sister, and I (as I outlined in aforementioned wedding post) fell deeply and abidingly in love with Brian, the photographer, and in my eyes, he can do no wrong.
Oh, and these pictures are all in a bizarrely backward order. Sorry.
On of my favorite shots.
It's the final picture in our album.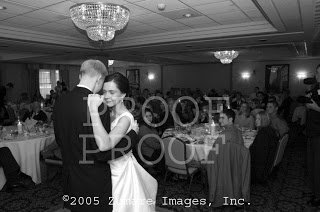 You just wish you had ridden away from
your wedding ceremony in a vintage T-bird.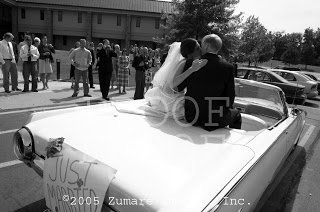 Brian used this shot in a wedding magazine
advertisement for his business.