So I was browsing the scores of pictures I uploaded last week and came across this small group of photos from a little trip we took almost exactly one month ago. Shame on me for not sharing them with you earlier. They're nothing too special, just kind of fun and cute, and we're all about looking presentable and darling and artsy. Mainly because most of the time we're sleep-deprived homebodies (The Professor and me) and/or scruffy wunderkinds hyped up on excess levels of energy (the big kids) and/or cranky babies whose pants don't fit (Raisin Baby and his mother.) So, naturally, we like to project an image of having our act together as much as possible.
Anyway! An explanation: Early last month J and B enjoyed a long vacation with their grandparents in Michigan, and over one weekend that they were gone the rest of us took a day trip to Chicago to visit the Adler Planetarium and The Professor's coworkers there before heading to Notre Dame for an overnight visit. The Professor had to be at Notre Dame on a day that he's normally home, which is why we took the opportunity to make this a little family trip. We had a fun (albeit cold) trip and I was once again left to marvel at the relative ease that is taking two children anywhere. I wouldn't divide my brood in half for anything, but the occasional break is nice, I'll admit.
Here are some shots from our weekend: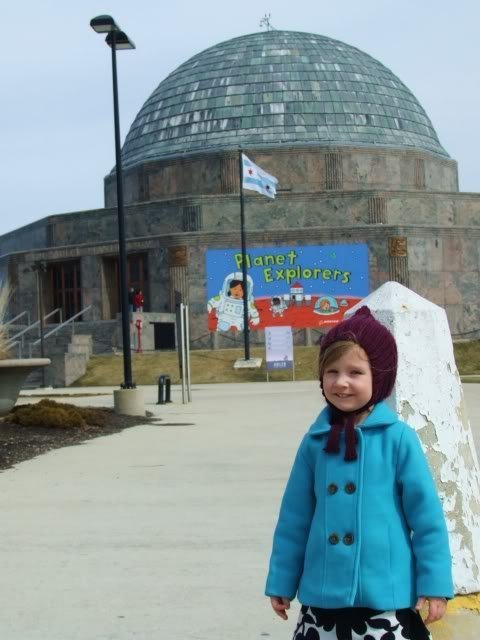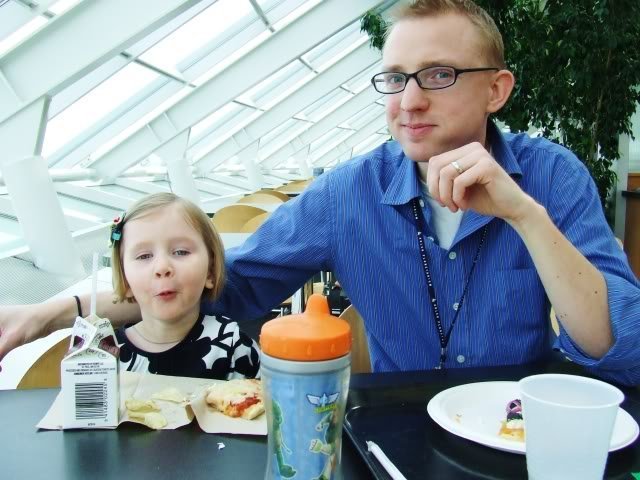 They are so cute, no?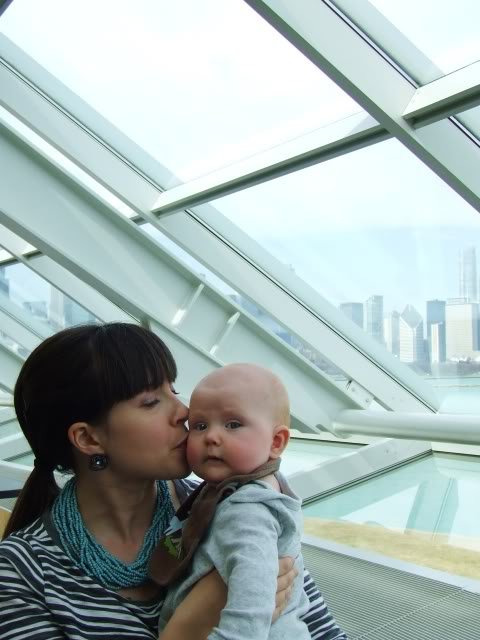 As are we.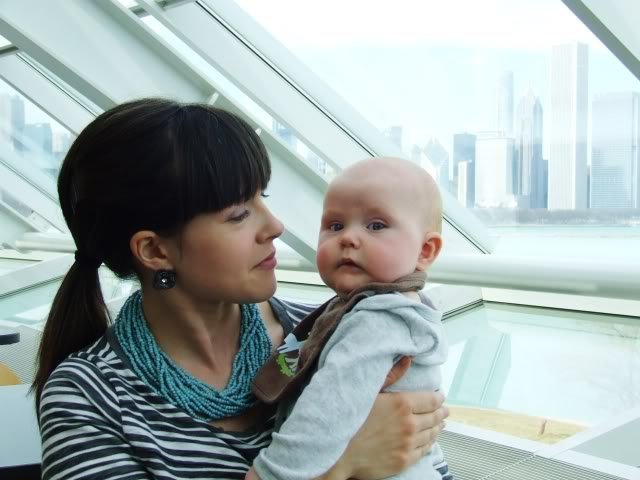 This is in the Adler's cafeteria, of all places.
A lovely view of the lake and the skyline.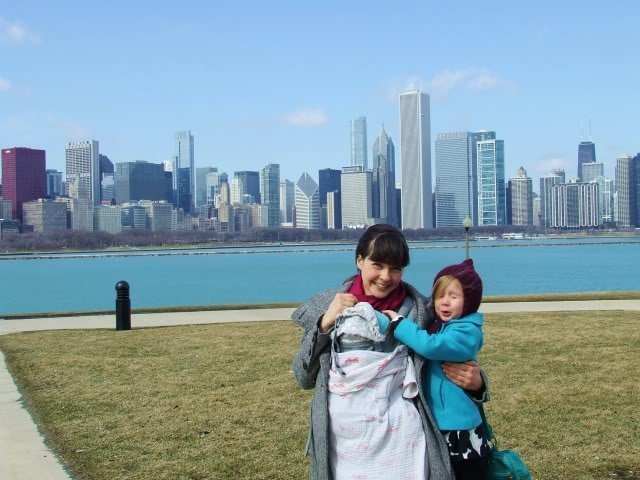 She is a nut. And we're trying to recreate
the last shot in this post. Now we have a baby!
That last one is the only photo we got at Notre Dame, as it was very cold and windy and just generally kind of miserable. The weather was a shame, since Notre Dame is a gorgeous, huge campus that is just tremendous fun to walk around and enjoy. Fun fact: C is sitting on the desk in her dad's carrel, which is a sort of teeny office The Professor gets as his very own in the ninth (I think) floor of the campus library. It is a rare and wonderful thing to enjoy a carrel with a window, and he gets a fabulous view of campus to boot. Lucky guy, eh? He says it's fantastic in the autumn.

Now please convince yourself that we frolic and make merry on twee, impetuous trips like this every weekend. Thank you.