All right. Look at this picture of various fabrics, and consider whether you can see them working together for the common good or if you think they are completely unrelated and insane when paired: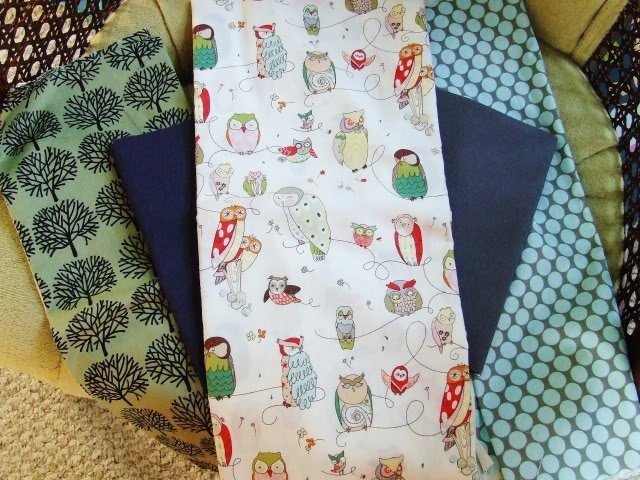 Well, if you guessed "working together for the common good," then you have just earned 20 points for the Hogwarts house of your choice. Yesterday I used the word "quilt" (which is a dangerous word to put out there on the internet when people know you own a sewing machine and aren't afraid to use it), and indeed I have gathered the necessary materials and supplies to make a baby quilt for our impending new addition.
(Note: I am officially in my third trimester. Eeeeeek.)
I wanted to just make a crib-sized quilt with a simple design/pattern; nothing that would require too much math or thinking, since those are not always my strong points, and also since this is my very first quilt. I am confident that it will rock, but I needed a simple pattern this time around to sustain that confidence.
Enter
this book, Quilting for Peace
. For the last couple months I have been poring over every book and quilt blog out there to get an idea of just what I was undertaking, and I found this book at our library. After first reading through all of the inspiring stories of people who had turned quilt-making into wonderful volunteer efforts (and yes, I wept, because I am insanely hormonal and unable to flip The Indifferent Switch lately), I thoroughly studied the patterns and discovered a great one for a baby. It's simply called "Easy, Striped Baby Quilt," and the title really says it all. Submitted by the founder of
Binky Patrol
, it makes a crib-sized quilt that
looks
like it might have taken some thought and math, but really just needs some careful cutting.
The lady who designed this quilt recommends you choose 1/2-yard pieces of four fabrics: two busy, bright prints, one calmer print, and one coordinating solid. These are then cut into specific, varying widths, arranged into a pleasant pattern, and pieced together long-wise. And that's it for the piecing. So simple. You get a very busy, colorful quilt without much thought.
I knew, beyond a shadow of a doubt, that I wanted my inspiration fabric to be this one,
Spotted Owl by Alexander Henry, in Natural: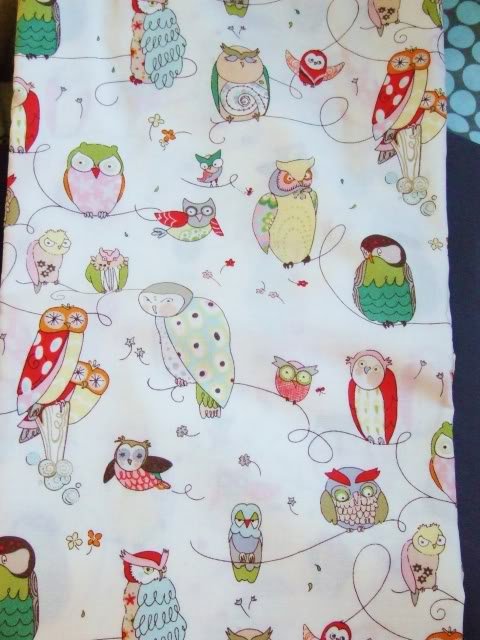 It's pretty great, huh? I'm trying to think long-term with this fabric, as King Peter the Boy and New Baby will be sharing a bedroom eventually, and I'm going to have to de-girlify the bedroom a bit to make it more gender-neutral. What's really nice about this print is the variety of color. Sure, there's some pink in it. But it's not overwhelming, and when you play up the greens and blues, you don't even see the pink. You just see grumpy owls. Grumpy owls work for either girls or boys.
My other busy print is
Ghastly Forest
in green, also by Alexander Henry, and I'm pulling in blues with
this great polka dot
by Amy Butler. The final piecing solid is a charcoal gray, and the darkish blue solid will be the binding. I bought batting that is a soft and gentle blend of cotton and bamboo, and if all goes as planned, I will be using free-motion quilting.
So! There you have it! I don't know exactly when I'll start this bad boy, as I have a very messy house (vacations are nice, but then we get back and our home smells like Essence of Old Lady) and a couple of sewing projects on the docket already. For now I'm going to get the fabric washed and ironed, perhaps cut, and move when the Spirit leads me. I do have a leetle bit of time; not forever, but plenty.
One final thing: That book is worth having, you guys. Sure, it's not chockablock full of patterns like other quilting books, but in my opinion the ones in there are keepers, and I have yet to find a better source of volunteer quilting efforts. It has some basic quilting instructions, nothing elaborate, so you'd need other resources for the actual step-by-step process. But honestly, I just purchased a used copy on Amazon for less than $5.00. Between this and the power of the internet, we'll get this baby done.
And you guys. Those owl are so grumpy. So adorably grumpy.