I need to focus on something good. The high from
my new bathroom tile
can only hold out so long, and this week's events just might prove to be beyond any positive vibes I can grasp at.
1) We only have one working toilet (upstairs) and one working sink (the one in the kitchen.) As you know, we have no toilet or sink downstairs and were relying on our half bath upstairs. Our upstairs sink officially stopped draining two days ago, as I mentioned last post, and despite his best and most valiant efforts, The Professor couldn't get it to drain. We had the plumber come out today (They live just two doors down! Isn't that fun?) and, unfortunately, learned that the problem is long past just unclogging. Basically the floor needs to be ripped out and the pipes need to be replaced. They quoted us a price of $600. We do not have $600. Instead, we will now bust our bottoms to get our full, downstairs bath in proper working order and worry about the upstairs sink later.
Note: I should disclose that we were planning on tackling our upstairs bathroom soon, which includes new flooring. But the difference between planning for something like that, "in the future," when we can get our money saved up again after our first major bathroom renovation, and having our hands forced to do it NOW is quite different. I know no one said being a homeowner was fun; I just wish it wasn't so expensive.
2) We have been fighting for nearly 2 years now with a mysterious leak in the front wall of our living room. The plaster on the wall, above and around one of the windows, is ridiculously bubbled and cracked, and for a while there, when it rained, actual rivets of water would stream down the wall. We thought we had the problem fixed in the fall, when we paid somewhere around $1000 for a local company to completely redo our two upstairs dormers: new windows, new flashing and insulation, new siding, etc. And for some time, no new water damage was evident. That's not the case any more: the leak is back, and we are at a loss. We are at a loss for both ideas and money, in fact.
3) J has some sort of viral infection which is mainly manifesting itself in a 72-hour (and counting) fever. Yesterday he was reading 103 degrees; today, slightly less. He went to the doctor today and got some antibiotic for his infected throat, which I'm sure will help and greatly improve his situation in a matter of hours. Plus she assured me that a lot of kids have been coming in with 3-day fevers, so I shouldn't get alarmed. But for now he's sick and cranky, and I live in constant fear of his brother and sister getting sick, too, which is sure to happen.
So you can see why things are a little, um, tense here. On top of all these things, my home is a mess (renovations will do that, despite my best efforts) and I'm exhausted after running a kid to the doctor's office (and wrestling his kicking limbs when said doctor wanted to flush out said child's ears with warm water) and then doing some major grocery shopping for our empty larder. I was sitting here, feeling sorry for myself and getting irritated with my kids for refusing to nap this afternoon, when it hit me that I have something to get excited about!
Without further ado... my second completed knitting project!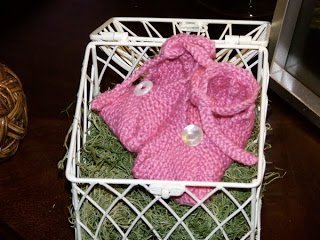 I made bootees for
sweet Cecilia
, my soon-to-arrive first niece. The pattern is from
this book
, and while they look complicated, I assure you that they were a perfect first attempt at using an actual knitting pattern.
Janie
had suggested them, and she turned out to be right. I only had to know the knit stitch, and I knit three simple pieces for each bootee: a 4" square large foot piece, a 2" square toe piece, and a simple strap. I then stitched the pieces together, sewed on some fun buttons, and then proudly presented them to my sister the goddess. Janie had made a pair for my own Baby C ages ago (which Baby C wore for a picture in
this new-mama-exhaustion post
), so I predict Cecilia will be sporting them fairly soon after she arrives.
If you are thinking of knitting and need a simple project to tackle, may I please suggest this? Sure,
a scarf
is easy, but it gets boring. (Take it from me. I know.) This is simple enough for a new knitter to tackle, and it includes enough new lessons to challenge you while not overwhelming. I love the finished project!
I just thought of two more things to get excited about! Baby C took me completely by surprise just yesterday by standing next to me and very clearly counting from 1 to 10. We were folding laundry together (she is such a helper), and she just counted to 10. She is 16 months old. I am so very impressed.
The OTHER wonderful thing to keep me going is this: my birthday is Saturday. My husband is evidently planning a wonderful overnight getaway in Chicago for just him and me. No kids! For an entire day and an overnight! We are going to eat at fancy restaurants (already have reservations!) and stay at a fancy hotel! The Hilton! We are going to go to the art museum!
I. Can hardly wait.
Okay, thanks. I feel so much better. I should also mention (can this be positive thing #4?) that our sweet boy B, who has recently been having
trouble with sensitivity
, has been so well-adjusted and mature the last few days, and I am so proud of him. This has been a welcome change, what with a sick brother on his mama's hands.
(Thanks for letting me vent, friends.)