There's a lull in my morning at the moment. All three kids are napping (wait, I might hear Jack talking in his crib), and
Raechel
is trying to come down with something, so she has joined the napping club, too. I'm eating toast and surfing the web, and I thought I'd share a few pictures with you that Rae and I took yesterday.
Here is Raechel with Oliver. Aren't they both beautiful?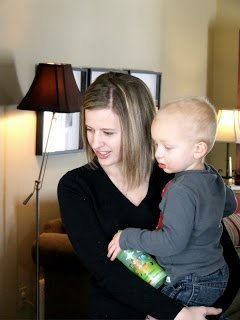 Here all three boys check out the record player together. Jack felt like it was necessary to hide behind the curtains for awhile, so you can only see Baylor behind him if you look very, very closely. And just for the record, the three of them got along swimmingly. Oliver very helpfully introduced Jack and Baylor to both their dog and their sister, and Baylor wasn't so bad about sharing his toys. There were a few tears, but I suppose that's to be expected in this sort of situation. All in all, we had a fun morning together before Oliver left to be with his Granddad and Groovy. (Who, I understand, are just giddy at the prospect of having him to themselves this weekend. As any grandparent would be.)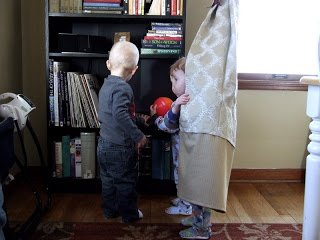 Just for the sake of record keeping, our favorite Oliver quote happened yesterday morning as we were all gathered around the table enjoying breakfast. Raechel was holding Charlotte, and Oliver pointed to her (the baby) and asked, "What's this guy called?"
Ha! We've gotten lots of laughs out of that one.
After the hiding-behind-the-curtains stunt was done, Rae and I thought it might be nice to get at least one picture of all three kids together. We only thought of this right before my boys' nap, so things quickly fell apart.
I tried to restore order by sitting with the kids, which didn't help one bit. Here I am giving my best sympathetic face.
Really, I just look scary. Jack is justified in crying.
So sorry, no good pictures of all three kids. It just wasn't in the fates. And today we're just relaxing, although Stephen might just burst from his excitement about Dairy Queen opening up today. Our Dairy Queens (I believe there are three in town) close down for a couple of months in the winter because they aren't full braziers--they're just the walk-up, only ice cream kinds. Evidently January 29th is the magic, Dairy Queen opening day, and we are celebrating by getting blizzards and the like for dessert tonight.
And my husband just emailed me to tell me he was excited about this.
I believe the entire body of the email went something like this: "Ice cream ice cream ice cream!!!"
We like to find joy in the small things.